---
News in brief
New destination – Aalborg, Denmark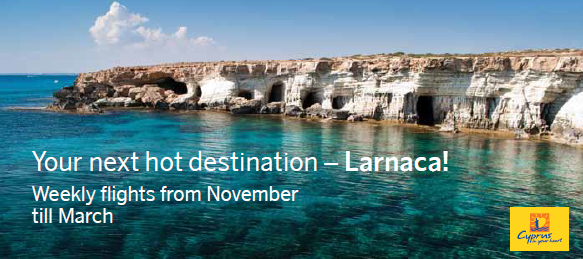 The perfect gift for the holiday season
New connections through Moscow's Vnukovo airport
Two brand new routes to look forward to in the summer of 2015!
New destination – Aalborg, Denmark

Let's welcome our first new destination for the summer of 2015 – Aalborg! While Aalborg is only the 4th largest city in Denmark, it is by far the most vibrant and interesting town apart from the capital. You can explore centuries of Danish culture in a city that has developed from a fortified trade post and fisherman's town into a classic manufacturing base and a modern centre of culture and education. Aalborg is a relatively small town for a city holiday, but it has plenty of offerings to keep you busy and entertained throughout your stay, regardless of whether you like to party, study architecture or simply fancy a nice time in a charming city full of activities and sightseeing attractions.
---
The Aalborg route will be launched on April 18, 2015. Flights will operate once a week, with ticket prices starting from EUR 69.
---


The perfect gift for the holiday season

With the holidays quickly approaching, airBaltic has prepared something special. The airline's travel gift e-vouchers are the perfect present for fulfilling the travel dreams of your parents, children, friends and other loved ones. Gift e-vouchers are available on all airBaltic flights for only EUR 35 and through airbaltic.com for any other desired amount. airBaltic gift e-vouchers can be used to book flights together with additional services, and they can be spent as either the sole means of payment or as partial payment for a larger sum.
---
Purchase airBaltic gift e-vouchers through our onboard Sky Shop, at airbaltic.comand at the airBaltic ticket office at the Riga International Airport.
---
New connections through Moscow's Vnukovo airport

airBaltic has just launched a new direct route to one of Moscow's major airports – Vnukovo. The new Riga - Moscow Vnukovo route will complement airBaltic's existing Sheremetyevo and Domodedovo services, offering additional travel options to the Russian capital or onwards with our partner airlines. Passengers from Latvia will be able to use Transaero's and UTair's wide network to destinations in Siberia, the Russian Far East, Asia, North and Latin America. At the same time, passengers arriving in Riga will be able to continue their trip to their final destination on board airBaltic to cities in Scandinavia, Western and Southern Europe, the Baltic States and the Middle East.
---
Flights on the new Riga - Moscow Vnukovo route operate five times per week, with ticket prices starting from EUR 99 in Economy Class and EUR 555 in Business Class.
---
Two brand new routes to look forward to in the summer of 2015!

The Greek island of Rhodes is ideal not only for those who want to relax on perfect beaches, but also for those who seek an action-packed holiday. Rhodes is one of the largest and most fertile of the Greek isles. It enjoys a particularly good climate, with sunny weather for eight months straight. Bright green hills, rich
valleys and an uninterrupted line of golden beaches make Rhodes a blessed place.

"Those who seek paradise on Earth should come to Dubrovnik," wrote George Bernard Shaw of this Croatian city, which is also called the Pearl of the Adriatic. Dubrovnik is best known for its breath-taking Old Town, and it is hard not to be impressed by the imposing city walls that have stalwartly protected the town for centuries. Nestled between the Adriatic Sea and the Dinaric Alps, Dubrovnik is an accessible and affordable destination for travellers.
---
Flights to Rhodes will begin on June 12, 2015, while flights to Dubrovnink will start to operate on May 26, 2015.
---