---
News in brief
New summer flights to Croatia, Italy and Greece
New direct flights from Tallinn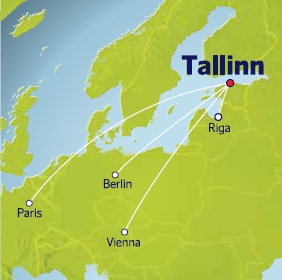 Quicker web check-in
Vilnius-Amsterdam flights soon to operate daily
Improved service to Stockholm
New feature for finding the cheapest tickets at airBaltic.com
New summer flights to Croatia, Italy and Greece
This summer, airBaltic is launching new flights to four exciting summer destinations in the Mediterranean. Weekly flights to the Croatian resort town of Dubrovnik will start on May 26, increasing in June to two flights per week until the end of September. With its breath-taking Old Town and imposing city walls along the shores of the Adriatic Sea, Dubrovnik is one of Europe's top summer destinations.
Flights to Thessaloniki, Greece's second largest city, will be launched on June 5 and operate twice a week until the end of September. The city boasts a glorious Byzantine history, fine restaurants with excellent Greek cuisine, a hip nightlife scene and many beautiful beaches in the vicinity.
Flights to the Greek island of Rhodes will operate once per week from June 12 until September 11, in cooperation with tour operator Tez Tour. With eight months of sunshine, stunning beaches and green hills, Rhodes is an ideal place for a summer seaside vacation.
The world-famous Italian city of Pisa will become a new airBaltic destination on June 13, and flights from Riga will operate once per week until mid-September. These flights will offer Baltic travellers the chance to spend their summer holidays in the heart of Tuscany and enjoy high culture, visit historical cities such as Florence and Siena, and, of course, indulge in renowned Tuscan wines and food.
---
One-way ticket prices to these great holiday spots start from 69 EUR.
---
New direct flights from Tallinn

We are proud to announce that airBaltic will soon be operating direct flights from Tallinn to four destinations. Aside from the existing five daily flights to Riga and one daily flight to Paris, starting in May, new flights will connect Tallinn to Berlin and to Vienna four times per week.
---
One-way tickets from Tallinn to Berlin are available starting from as little as 55 EUR, to Vienna from 69 EUR and to Paris from 79 EUR.
---
Quicker web check-in

With more than 75% of airBaltic passengers checking in online, we have significantly improved the check-in system at airBaltic.com to make your travel experience even more smooth and enjoyable. The main advantage is that you can check in much quicker, as instead of six steps there are now only two. In another improvement, you can now see the real seat plan of the aircraft and choose the place that you like most.
During the checkin process, you can also pre-order from a selection of meals for your flight and pay less for checked baggage than you would at the airport. If you lose your boarding pass, then you can return online anytime, enter your reservation number and get it again. However, probably the fanciest thing is that now you can use your Pass Book app for check-in with an iPhone or iPad, or Pass Wallet with an Android, which are the quickest and easiest ways appreciated by mobile device users worldwide.



Vilnius-Amsterdam flights soon to operate daily

In response to passenger demand, starting from the end of March airBaltic will increase the flight frequency on its Vilnius – Amsterdam route from four flights per week to daily flights. This flight is operated in partnership with KLM, thanks to which passengers can further extend their travel to the whole network of the Dutch airline.
---
One-way ticket prices from Vilnius to Amsterdam start from 59 EUR.
---


Improved service to Stockholm

From March 29, when airBaltic's summer flight schedule enters into force, flights between Riga and Stockholm Arlanda airport will be even more convenient. There will be four daily flights, with improved timing for business travellers from both ends. A morning flight arrives in Stockholm at 7:45, and two flights arrive in Riga at 08:35 and 10:55. Evening flights leave Riga at 19:00 and 23:35 and depart from Stockholm at 19:50, making one-day travel smooth and convenient. Morning and evening flights will continue to be operated with jet aircraft, while midday and late evening/early morning flights will be operated with our new Dash Q400 turboprops.
---
One-way ticket prices from Riga to Stockholm start from 35 EUR. All of these features make airBaltic the airline with the most frequencies and with the best product on this route.
---



New feature for finding the cheapest tickets at airBaltic.com

airBaltic flight tickets are always the cheapest at airBaltic.com, but now we have improved our booking engine to let you find those cheap flights more easily. When you open our website and enter the cities that you would like to fly to, always make sure to select the "Looking for the best price" check-box. Then, if you opt for a one-way ticket, you will get the ticket prices displayed for the whole month. In the case of a round trip, the ticket prices for a one-week period will be shown, so that you can easily choose the dates and price levels that best suit your travel plans and budget. If you select a price but then find that the flight schedule does not correspond with your needs, you can always choose another flight or upgrade to a more flexible ticket class. If you choose to display the year calendar, you will be able to see the lowest price of each month on the particular route.
---
Hence, if you plan your trip in a timely manner, then you might be able to travel to many attractive destinations for as little as 29 EUR.
---