---
Preorder your meal!
Economy class travellers are welcome to order a meal to enjoy during the flight in advance. The selection is much wider than on board, and these passengers are among the first served.
Meal preorder is available during the booking process at airBaltic.com, during online check-in (up to 1 hour before departure)*, via Manage my booking and at airBaltic ticket offices or call centre up to 24 hours before departure. View the preorder menu and select your inflight meal. See the list of allergens (PDF).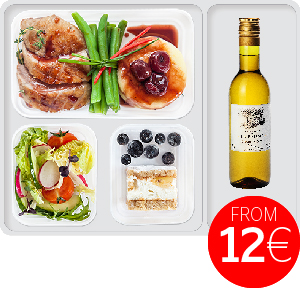 BREAKFAST FROM 8 EUR
LUNCH, DINNER FROM 12 EUR
SALAD FROM 7 EUR
SNACK PLATTERS FROM 8 EUR
VEGETARIAN MEALS FROM 8 EUR
KIDS' MEALS FROM 8 EUR
SPECIAL MEALS (gluten-free, vegan, low-calorie, kosher etc.) FROM 8 EUR
If you prefer a wider choice of selection and have at least 24 hours until departure, preorder your meal at airBalticMeal.com. There is an assortment of more than 70 meals for all tastes and dietary needs. Our recommendation — the delicious, well-priced meal sets that include a snack, the main course, a dessert and a drink of your choice.
*Please be aware that availability of the items offered is limited.
Meals can only be pre-ordered for flights operated by airBaltic;

Meal preorder via the airBaltic call centre is only available for flights to/from Riga/Vilnius;

Meals cannot be pre-ordered for codeshare flights operated by other airlines (flight numbers BT5000-BT9999);

Hot meals are available on flights lasting more than 1 hour and 30 minutes. On shorter flights only cold meals are available;

Depending on the type of aircraft, a hot meal may be replaced with a cold meal of the same value;

Once a meal has been booked it cannot be removed from the booking and payment cannot be refunded;

If there is more than one passenger in the booking, a meal should be ordered separately for each passenger;

After successfully making a payment you will receive a confirmation message with an invoice attached to the e-mail address you provided. Please note that you will need a printed invoice in order to receive your pre-ordered meal!

In case you change your flight date/time and payment was made at least 24 hours before the scheduled or desired time of departure, your meal will still be provided, but it may vary from the original if the menu has since been changed;

In case you change your flight date/time and payment is made less than 24 hours before the scheduled or desired time of departure, your meal will not be provided and payment will not be refunded, unless the flight/date time is changed by airBaltic. If the flight/date time changes are performed by airBaltic, payment for the meal will be refunded;

If your flight is cancelled, payment for the meal will be refunded together with all other payments;

Unfortunately, for passengers with food allergies, we cannot guarantee that certain ingredients (such as peanuts or peanut derivatives) will be excluded from our catering.
Business class passengers are served a complimentary meal and beverages on board. Any special meals must be requested at least 24 hours before departure.
Asian Vegetarian meal AVML – spicy vegetarian combinations with limited use of dairy products (no meat, mat, fish products. No fowl, lard, gelatine or eggs).
Vegetarian Raw meal RVML – combination of raw vegetables and fruits.
Vegetarian Vegan meal VGML – strict vegetarian meal (no products from animal sources; no eggs; no fish products; no honey).
Vegetarian lacto – ovo meal VLML – vegetarian meal with dairy products and/or eggs (no meat or meat products; no fish products; no lard or gelatine).
Kosher meal KSML– meal prepared according to the Kashrut.
Baby meal BBML - meal for children under 2 years (baby food).
Child meal CHML – meal for children from 2 to 5 years old (soft and easy to chew meals; healthy choices).
Bland meal BLML – meals prepared omitting foods/beverages causing stomach discomfort (minimal amount of spices is used; no alcohol; no fried foods; no high fibre foods).
Diabetic meal DBML – no added sugar meal (no sugar; no spreads containing sugar; no salad dressings, mayonnaise, cream or syrups).
Gluten free meal GFML – meals for gluten intolerant passengers (N.B! NOT SUITABLE FOR GLUTEN ALLERGIC PASSENGERS). No gluten containing products used (wheat, wheat flour, rye, oats, and barley; pasta, bread, bread crumbs and batter etc.).
Low calorie meal LCML – for passengers wishing to follow a calorie-restricted diet (high fibre, low fat).
Low fat meal LFML – for passengers wishing to follow a fat-restricted diet (low fatty acids, high fibre).
Low lactose meal NLML – for lactose intolerant passengers (N.B! NOT SUITABLE FOR COW MILK ALLERGIC PASSENGERS) (meals prepared omitting diary products).
Special meal SPML – passengers preference or/and medical requirement (Details must be provided. Medical requirements must include specific details of ingredients).
Sea Food meal SFML - fish and/or seafood prepared according to local specifications.
Fruit plate FPML – fresh fruit.
Please order your special meals at least 24 hours before departure:
by writing an e-mail to reservations@airbaltic.lv (Please write you name, surname, flight date, flight number, reservation number and desired meals);

by calling +371 9000 1100* (for calls from Latvia);

by calling +371 67006006 (for calls from abroad);

by contacting your travel agent.
* This is a paid service – 0.52 EUR per minute

Please note! The given prices and information replace any information published previously and are subject to amendments or cancellation taken unilaterally by airBaltic at any time. The equivalent of the given prices in a different currency may vary depending on the currency fluctuation and applied rate. A bank applies its own exchange rates and commissions, thus the total amount may differ from that on the website.