Currently airBaltic is inviting to join the team:
Junior Cabin Crew / Noorem-pardatöötaja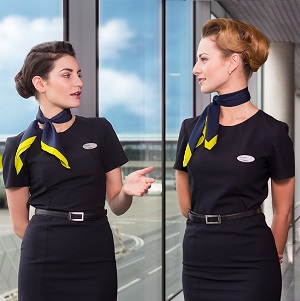 RESPOND AND YOU WILL GET:
A profession in 10 weeks (with a paid scholarship)
Work place in the biggest airline in the Baltics
International work experience
New colleagues and friends all over the world
A progressive salary system and flexible, study-friendly working hours
Work base in one of the most advanced crew centres in Europe
Great travel benefits for you and your family
WHAT WE WANT:
A positive, friendly colleague, who knows how to take care of airBaltic customer
High school graduate with the knowledge of Russian and English
A good swimmer and physically fit person
---
VASTAKE JA SAATE:
kümne nädalaga ameti (koos tasustatud väljaõppega)
töökoha Baltikumi suurimas lennufirmas
rahvusvahelise töökogemuse
uued kolleegid ja sõbrad kõikjalt maailmast
progresseeruva palgasüsteemi ning paindlikud ja koolis käimist võimaldavad töötunnid
tööbaasi ühes Euroopa arenenumas pardatöötajate keskuses
suurepärased reisisoodustused endale ja perele
KEDA OTSIME?
Positiivset ja sõbralikku kolleegi, kes teab, kuidas airBalticu klientide eest hoolitseda
Keskkooli lõpetanud inimest, kes valdab eesti, vene ja inglise keelt
Inimest, kes oskab hästi ujuda ja on üldiselt füüsiliselt heas vormis
---
! Please note that background check will be conducted on all applicants, as well as restrictions that prohibit the hire in accordance with the law "On Aviation" Article 57.1. paragraph 4 will be evaluated!
! Pidage meeles, et kontrollitakse kõigi kandidaatide tausta ja piiranguid, mis võivad lennundusseaduse paragrahvi 57.1 punkti 4 alusel takistada nende palkamist!
We invite you to visit "Tallink Hotel" - A. Laikmaa 5. in Tallinn during the "Open Days" on April 11 at 9:30. Please take your CV and identification card with you.
Kutsume teid airBalticu lahtiste uste päevale, mis toimub 11. aprillil algusega kell 9.30 hotellis Tallink aadressil A. Laikmaa 5.
Alternatively you can send your CV via our recruitment system by pressing button below "Apply for this vacancy" till April 09, 2017.
Samuti võite oma CV saata meie värbamissüsteemi kaudu, klõpsates alloleval nupul "Kandideeri" kuni 1. märtsini 2017.