Currently airBaltic is inviting to join the team:
Junior Cabin Crew / Jaunākais stjuarts(-e)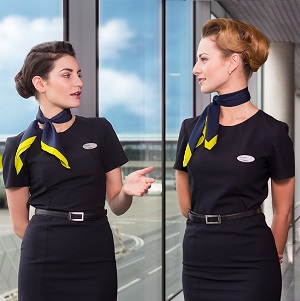 RESPOND AND YOU WILL GET:
A profession in 10 weeks (with a paid scholarship)
Work place in the biggest airline in the Baltics
International work experience
New colleagues and friends all over the world
A progressive salary system and flexible, study-friendly working hours
Work base in one of the most advanced crew centres in Europe
Great travel benefits for you and your family
WHAT WE WANT:
A positive, friendly colleague, who knows how to take care of airBaltic customer
High school graduate with the knowledge of Latvian, Russian and English
A good swimmer and physically fit person
---
ATSAUCIES UN TU IEGŪSI:
Stjuarta profesiju, kuru apgūsi 10 nedēļās (šajā laikā saņemsi arī stipendiju!)
Darba vietu lielakajā aviosabiedrībā Baltijā
Starptautisku darba pieredzi
Jaunus kolēģus un draugus no visas pasaules
Konkurētspējīgu atalgojumu un elastīgu, studijām draudzīgu darba laiku
Darba bāzi vienā no modernākajiem stjuartiem centriem Eiropā
Lieliskas ceļošanas iespējas sev un savai ģimenei
MĒS VĒLAMIES:
Pozitīvu, draudzīgu kolēģi, kurš vēlas un prot parūpēties par airBaltic klientiem
Vidusskolu absolvējušu latviešu, krievu un angļu valodas pratēju
Prasmīgu peldētāju ar labu fizisko sagatavotību
---
! Please note that background check will be conducted on all applicants, as well as restrictions that prohibit the hire in accordance with the law "On Aviation" Article 57.1. paragraph 4 will be evaluated!
! Lūdzu, ņemiet vērā, ka visiem atlasītajiem pretendentiem saskaņā ar Aviācijas likuma 57.1. panta 4.punktu tiks veikta iepriekšējās darbības pārbaude.
---
We invite you to visit airBaltic headquarters during the "Open Days" on every Thursday at 13:00 at Tehnikas 3, Marupe county. Please take your CV and identification card with you.
Mēs ielūdzam Jūs katru ceturtdienu uz airBaltic galveno biroju plkst. 13:00 , Tehnikas ielā 3, Mārupes novadā, uz "Atvērto durvju dienu". Lūdzu, ņemiet līdz savu CV un personu apliecinošu dokumentu.
---
Alternatively you can send your CV via our recruitment system by pressing button below "Apply for this vacancy" till November 30, 2017.
Tāpat Jūs esat laipni aicināti iesniegt savu CV caur mūsu elektronisko atlases sistēmu zemāk nospiežot pogu "Apply for this vacancy" līdz 30.11.2017.

Reg # 40003245752