Join airBaltic, apply for
Junior Cabin Crew / Jaunākais stjuarts(-e)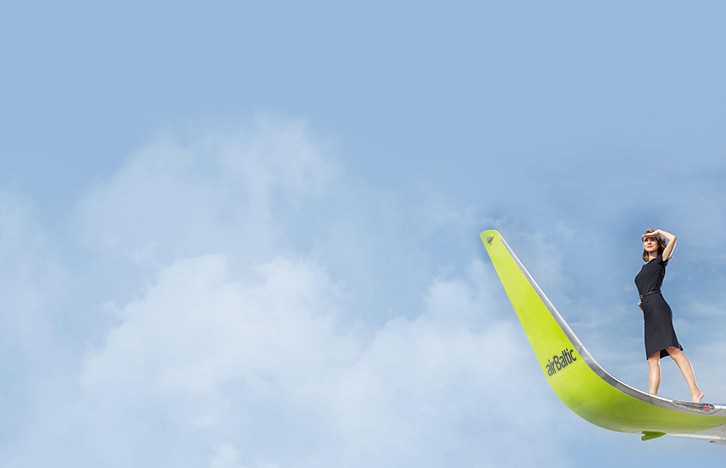 AirBaltic is one of the most desirable employers in Latvia. For several years we have been recognized as the Top Employer in various nationwide surveys.Stable company with more than 20 years of experience on the market and big promises for the future. We are dynamic and multinational – representatives from 30 nationalities are currently working with us. Our employees skills, knowledge, and competencies are the heart of our company's performance management process.
We are hiring for the most charming profession in aviation! Join our team as Cabin Crew in the biggest airline in Baltics. You will meet new colleagues and friends all over the world. We invite you to visit airBaltic headquarters during the "Open Days" on every Thursday at 13:00 at Tehnikas 3, Marupe county, the last Open Days in this season will be on May 03, 20118. To assist the process, please, bring with you:1 passport size photograph and printed CV. During assessment day there will be various team and individual activities. You will be assessed in Latvian, English and Russian languages.
Respond and you will get:
A profession in 8 weeks (with a paid scholarship)
Work place in the biggest airline in the Baltics
International work experience
New colleagues and friends all over the world
A progressive salary system and flexible, study-friendly working hours
Work base in one of the most advanced crew centres in Europe
Great travel benefits for you and your family
What we want:
A positive, friendly colleague, who knows how to take care of airBaltic customer
High school graduate with the knowledge of Latvian, Russian and English
A good swimmer and physically fit person
We offer:
Working in a developing and innovative European company
Social guarantees and competitive compensation package
Multicultural working environment with professionals from 30 nations and unique networking opportunities
Benefits associated with airline industry
Iegūsti šarmantāko profesiju aviācijā! Nāc strādāt par stjuartu lielākajā aviosabiedrībā Baltijā, iegūsti jaunus draugus un apceļo pasauli! Mēs ielūdzam Jūs katru ceturtdienu uz airBaltic galveno biroju plkst. 13:00 , Tehnikas ielā 3, Mārupes novadā, uz "Atvērto durvju dienu", pēdējās atvērtās durvju dienas būs 3.maijā. Ja vēlies ielūkoties sava topošā darba aizkulisēs, nāc un ņem līdzi:1 pases izmēra bildi un izdrukātu CV. Novērtēšanas dienā notiks dažādas komandas un individuālās aktivitātes. Mēs novērtēsim latviešu, angļu un krievu valodās zināšanas.
Atsaucies un Tu iegūsi:
Stjuarta profesiju, kuru apgūsi 8 nedēļās (šajā laikā saņemsi arī stipendiju!)
Darba vietu lielakajā aviosabiedrībā Baltijā
Starptautisku darba pieredzi
Jaunus kolēģus un draugus no visas pasaules
Konkurētspējīgu atalgojumu un elastīgu, studijām draudzīgu darba laiku
Darba bāzi vienā no modernākajiem stjuartiem centriem Eiropā
Lieliskas ceļošanas iespējas sev un savai ģimenei
Mēs vēlamies:
Pozitīvu, draudzīgu kolēģi, kurš vēlas un prot parūpēties par airBaltic klientiem
Vidusskolu absolvējušu latviešu, krievu un angļu valodas pratēju
Prasmīgu peldētāju ar labu fizisko sagatavotību
Mēs piedāvājam:
Darbu inovatīvā un attīstošā Eiropas uzņēmumā
Starptautisku darba vidi kopā ar profesionāļiem no vismaz 30 pasaules valstīm
Sociālās garantijas un konkurētspējīgu atalgojumu
Labumus, kas raksturīgi tikai aviokompānijām
Send your CV until April 30, 2018
Please note that we will contact the successful candidates within 1 month after the last application date.
Background check will be conducted on all applicants, as well as restrictions that prohibit the hire in accordance with the law "On Aviation" Article 57.1. paragraph 4 will be evaluated.
AS "Air Baltic Corporation", Reg # 40003245752