Arabian culture and extraordinary experience
The symbol of Abu Dhabi, the white Sheikh Zayed mosque is one of the largest mosques in the world. Its 82 white towers on a backdrop of a bright blue sky, massive crystal chandeliers and large ornate carpet will make you feel like you have been transported into an Arabian fairy tale.
While in Abu Dhabi, a day trip to the Oasis city of Al Ain is well worth the effort. You can visit the Al Jahili fort, set in beautifully landscaped gardens, it houses a tourist centre and a photo exhibition offering a fascinating insight into the UAE life in the 1940s. For those after an awe-inspiring view over the desert, take a drive up the hairpin curves of Jebel Hafeet to the summit of the UAE`s highest mountain.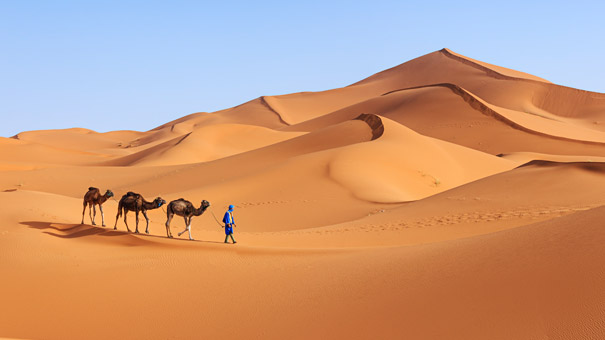 Right at the city border lies Rub Al Khali, the largest sand deserts in the world, spreading across 650 000 square km. Tickle your nerves on a 4x4 ride over giant sand dunes, go on a camelback ride or spend a night in a camping under a starry desert sky.
For a truly local feel, head to one of the markets. The fish market takes place every morning at the main harbour, whereas the central Al Ain Souk is the place to negotiate the best price for spices, perfumes, jewellery and silk.
To feel as local as you possibly can, visit a camel race – these take place in the winter season in the dedicated racetrack just outside of the city.