Cultural entertainment and shopping
Lonely Planet vouches that Almaty is eagerly embracing a Western lifestyle, complete with glitzy shopping malls, Western-style coffee lounges, expensive restaurants, dance-till-dawn nightclubs and new ski resorts to enjoy life to the full.
Get ready to have your mind blown at Interactive-Entertainment Park EVRIKUM, a place where science is performed in the most unusual ways. It is situated in one of the biggest city malls in Almaty – MEGA MALL. Speaking of malls, another popular destination is the Underground shopping mall in Republic Square – worth a trip for its illumination in the dark hours alone!
The Central State Museum of Almaty is the largest museum in the city, and history buffs will love its rich collection.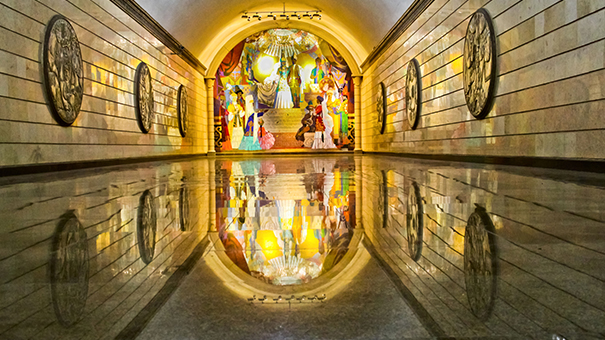 Cultural entertainment and shopping
The Museum of Kazakh Musical Instruments is a place both for kids and adults to have fun and learn things. They have excursion programs and masterclasses on playing folk instruments.
Even if you are not planning to take the metro, pop into Almaty subway to see the station artwork.
And what about going out? Almaty has many cool bars and nightclubs. One of the premier entertainment centres is Cartell – nightclub, lounge and karaoke rooms. Most nightclubs in Almaty are open mainly on weekends though – but then they have visiting celebrities and artists to entertain guests.